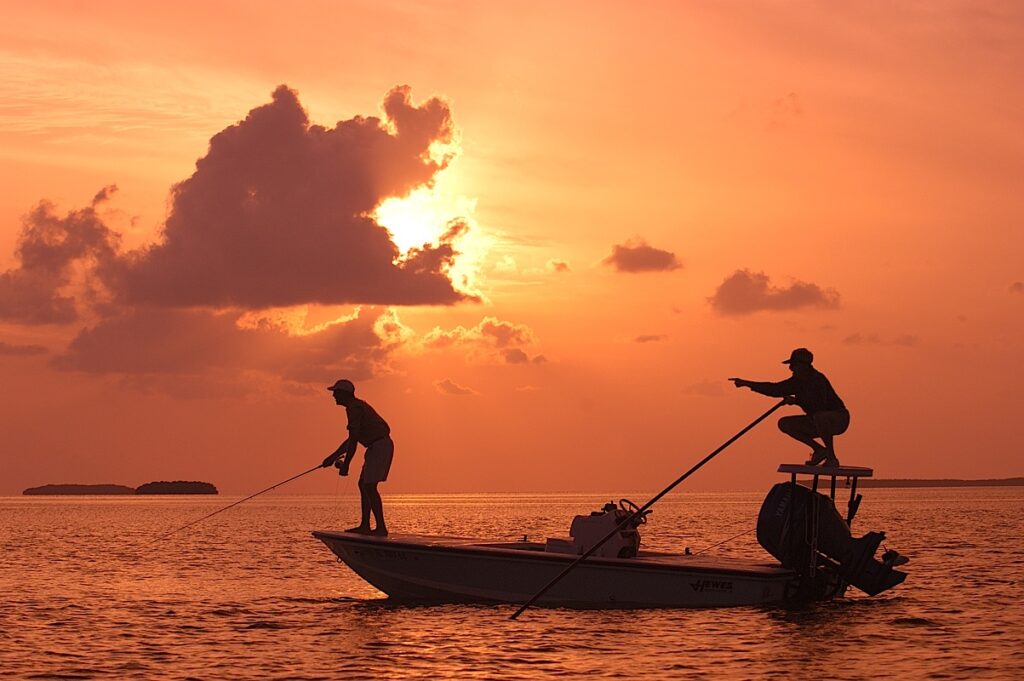 Key West is well-known as a fisherman's paradise. The island is surrounded by such a variety of fishable water and bottom structure, inhabited by so many species of game fish, that one could spend a year fishing in Key West and go for a different style of fishing and different target species each day out. The waters of the Gulf and Atlantic have produced hundreds of International Game Fish Association world records, and every year professional fisherman from around the world come to Key West to participate in some of the country's top saltwater tournaments. From deepwater Blue Marlin, Sailfish, and Swordfish, to 150–pound Silverking Tarpon in the Backcountry channels, Permit and Bonefish on the Flats, and fun multispecies action fishing on the reefs and wrecks, Key West offers fishing experiences for everyone.
Backcountry Fishing
The above-water inhabited islands of the Florida Keys are a relatively small portion of a 100-mile-long strip of shallow water flats, tangled channels, and wild mangrove islands that separate the Atlantic Ocean from the Gulf of Mexico. This is the Florida Keys Backcountry – a last remaining example of wild, untouched Florida and a true sportsman's paradise. The Backcountry offers calm waters and nearly unlimited fishing grounds, with a range of fishing opportunities that will satisfy the most dedicated hard-core trophy angler or the family out looking to show the kids a good time. Serious fishermen can pursue a Grand Slam – Tarpon, Permit, and Bonefish on the same day. Recreational anglers can go for a great day of action fishing with species that are always biting and easy to catch: Sea Trout, Mangrove Snapper, Jack Crevalle, Ladyfish, Pompano, Redfish, and Spanish Mackerel are plentiful and fun to catch.
Deep Sea Fishing
If you are ready to try fishing on the open sea, the Atlantic Ocean waters to the east of Key West are internationally renowned for trophy big game fishing. Many species of game fish live in or migrate through these waters, and Deep Sea Fishing opportunities change according to the season and the varying water conditions. The Atlantic Blue Marlin is the most famous of the Florida offshore billfish. Females of this species can reach lengths of 16 feet and top 1000 lbs. in weight. Sailfish are abundant as well, and Key West has been home to the World Sailfish Championship since 2003. Other popular offshore species include Barracuda, Blackfin Tuna, Kingfish, Mahi-Mahi, and Wahoo.
Wreck Fishing
There are hundreds of shipwrecks in the Gulf and Atlantic waters within range of Key West. These wrecks are fish magnets that attract incredible numbers of fish. Dropping live bait or jigs on the deep wrecks of the Atlantic side can hook an angler up with a wide variety of species including Amberjack, Barracuda, Cobia, Grouper, Snapper, Yellowtail, and Sharks. The wrecks in the Gulf often harbor the huge Goliath Grouper, known to run up to 600 lbs. Surface fishing the waters above the wrecks with live bait or lures will produce catches of Barracuda, Bonita, Kingfish, Sailfish, Tuna, and Wahoo. If you want to catch many different species, including some good eating fish, try out some wreck fishing. You never know what the next hit might bring.
This is just a quick overview of three of the most well-known types of sport fishing available in Key West waters. If you are an enthusiastic fisherman already, or just someone who would like to give the sport a try, you will never have a better opportunity than Key West offers. World-class angling, beautiful scenery, a wide choice of top-quality boats and guides – it just does not get any better than this, so get on board and wet a line with some Key West fishing.
Read More