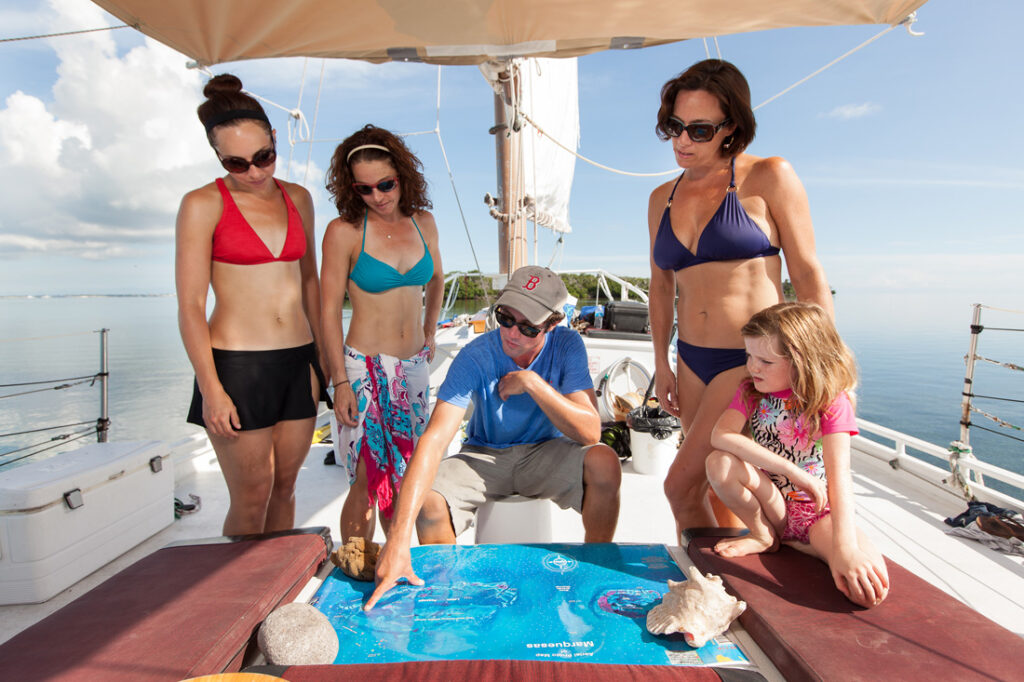 Families considering a Key West vacation often wonder if the island is a kid-friendly place. Given the city's reputation for having a robust nightlife scene and a wide tolerance for creative expressions of individuality and eccentric characters of many types and stripes, it is perfectly natural for parents to have at least some minor reservations. However, there is no reason at all for serious concern because many families vacation in Key West each year, and children have always been part of the diverse mix of people that make the island great.
Granted, child friendly means different things to different people. And there are certainly the differences between toddlers, tweens, and teenagers to consider. There is no question that adult entertainment is a major draw in Key West. Among the shops, ice cream stores, and restaurants on Duval Street are also lots of bars, gay bars, and strip clubs. At night, intoxicated people walk the streets, and there are also many homeless people on the streets and in the parks. But just like anywhere, by choosing the right places and the right times, you can easily keep it G-rated for the very young ones, or let the older teens experience a touch of the R-rated if that is what you want.
As far as fun and entertainment for the younger set, Key West will present you with absolutely no obstacles to filling the days with exciting activities, and the nice thing about it is that many of the adventures that Key West offers can be just as interesting to parents as they are to kids. To start with, you have the beaches, water sports, historic sites, family-friendly restaurants, and planned activities offered for the younger set by many island resorts. Those are the kid friendly Key West basics.
Beyond that, a quick look through the Attractions Key West website will open up the kids' side of Key West. You could start with a ride on the Conch Train, a colorful open-air train that has been cruising the streets of Key West delivering 90-minute highlight tours to visitors for more than 50 years. The very young ones will love it. Or, if you would like to hop on and off more frequently, do the Old Town Trolley, which offers 12 stops and features more than 100 points of interest.
Kids love a good lookout tower, and a climb up the historic Key West Lighthouse will take them up 88 steps to overlook the ocean. The Lighthouse is open from 9:30 to 5:30 daily, and kids under 7 are free, while ages 7 – 12 pay only $2. Kids also love the unusual, and the Ripley's Believe It or Not! museum at 108 Duval features oddities like a white buffalo and a car made entirely of dimes.
Another great choice is to immerse the young ones in nature. Drop by the Key West Butterfly & Nature Conservatory at 1316 Duval Street, where the whole family will enjoy seeing 50 to 60 species of beautifully colored butterflies on display.  Walk through a climate-controlled tropical paradise filled with hundreds of free-flying butterflies and over 20 species of exotic birds from around the world. Follow it up by learning about the underwater world at the Key West Aquarium, the city's oldest attraction. See hundreds of species of local sea life, and let the kids get hands on at the touch tank.
For older kids and the young at heart, a catamaran cruise is both relaxing and exciting as you enjoy an ocean cruise together with a close-up view of Key West's crystal blue waters and living coral reef. Snorkel with tropical fish and soak up the sun on deck as you enjoy beverages and lunch. Or give sea kayaking a try with a paddle through the mangroves and over the shallow flats of the Key West backcountry. Bring a waterproof camera because you will see lots of birds and wildlife.
It should be clear even from this very brief overview of some of the highlights that Key West is a magical and exciting place for the whole family. It is a destination that appeals to kids from 6 to 60, with plenty to explore, and a lifetime of memories to be made. So don't hesitate to round up the kids and come on down to Key West.
Read More