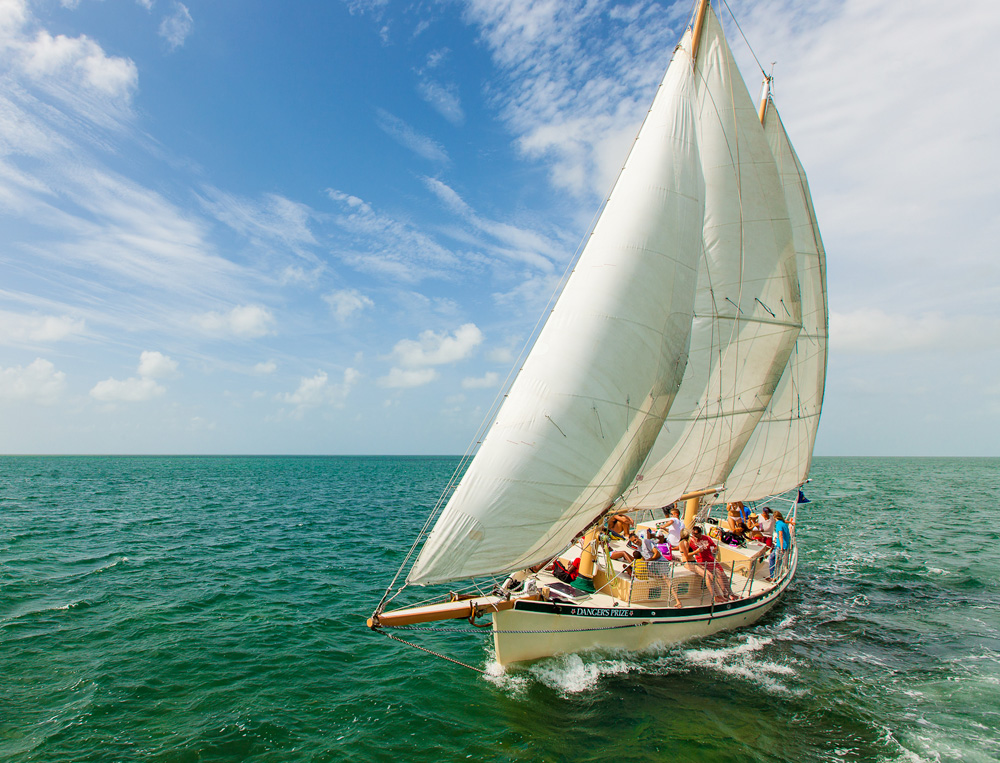 Key West has long been a top American destination for sailors. The generally pleasant and mild weather, a good selection of marinas and anchorages, and plenty of things to see and do both on- and off-shore make it an ideal destination or way point for cruising yachtsmen. Even in mid-winter, December through February, the temperature ranges from the mid-60s to the mid-70s, with sunshine nearly everyday. More importantly, there is also a 10-15 knot breeze just about every day, and the water stays warm enough for swimming and snorkeling on the many protected patch reefs around the island.
If you have ever dreamed of enjoying the cruising life, or simply wondered what it is like to spend some time on a sailboat crossing the water on wind power alone, a Key West visit is very likely to stir your desire to get out and fulfill some longings. With perfect weather, blue water in view from so many vantage points on the island, and the sight of boats of all types at anchor and underway very common throughout the day, this island can bring out the sailor in anyone. So how is a visitor in town going to get out there on the waves and get a taste of life before the mast? It's simple really – Attractions Key West offers a number of good options that will have you out and under sail in no time.
For pure relaxation, there is nothing like a sunset wind and wine cruise. Get out on the water on a beautiful wooden sloop-rigged sailing vessel carrying a small 20-person party. Enjoy the peace and quiet of moving smoothly along under wind power as the sky colors with the famous Key West sunset. A selection of fine wines, high-quality beers, and non-alcoholic beverages, complemented by delicious snacks, makes for a nice on-board happy hour. A cruise like this is the perfect way to end an active day and begin a great Key West evening. It will give you some idea what lucky yachties experience day after day, and just might have you shopping for boats after you get back home!
If you are in the mood for a longer trip, and a more active sort of offshore adventure, consider the sailing Backcountry Safari. This 6.5-hour trip is a great full-day activity that will take you on an exploration of the natural world in the waters around Key West. Start out with the fun of sea kayaking as an expert guide takes you into the unique and mysterious mangrove island eco-system. Stable and easy-to-maneuver kayaks let even first-time beginners wind their way smoothly through the leafy tunnels between the mangrove thickets to encounter tropical birds, rays, sharks, sport fish, and many other creatures of land and water.
Follow up the kayaking with snorkeling over some of the pristine patch reefs found within the boundaries of the Florida Keys National Marine Sanctuary. The calm and protected waters of the Keys backcountry make for great visibility and easy access that will let you swim among an amazing variety of corals, dramatic marine life, tropical fish, and sponge gardens. Have no fear if you have never snorkeled before because one-on-one instruction will have you comfortable in no time at all. All equipment is provided at no extra charge, and wetsuits make it possible to enjoy the water year round. And the best thing about the backcountry sailing safari is that you finish up the day with a scenic sail back to port.
So, here are two nice options if you would like to experience a bit of time under sail in the pleasant waters and charming anchorages of Key West. Don't let the opportunity pass you by – get on board and underway with an Attractions Key West sailing trip.
Read More