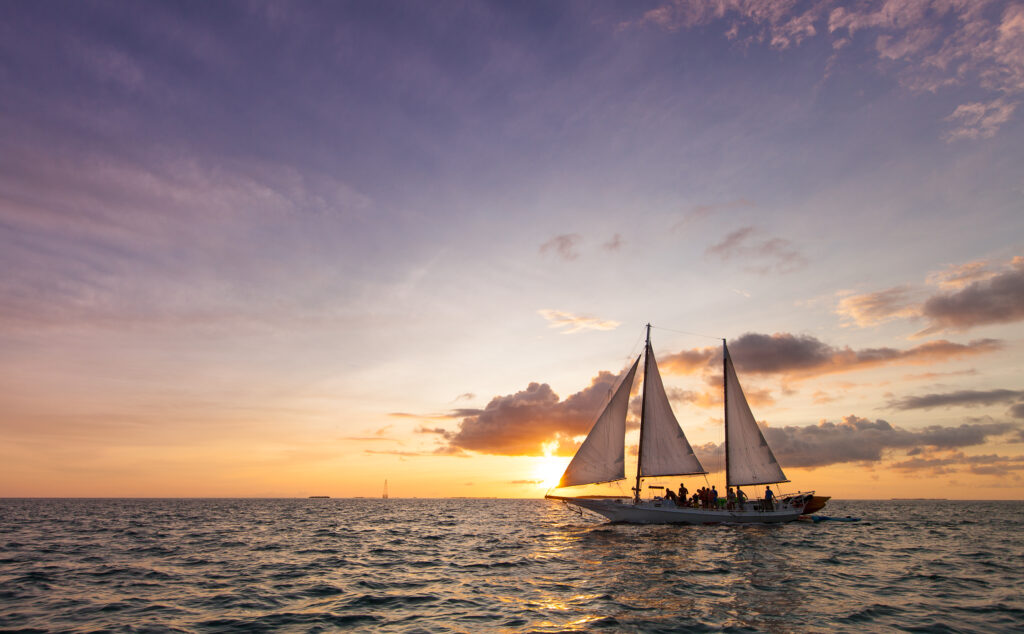 There is something about sunset in tropical island locations that inspires people and stirs a greater appreciation for what is normally a simple daily event. Waikiki has the famous and elusive green flash that draws hundreds of tourists and their cameras to the Kalakaua Avenue beach walk each evening. Maui has Mt. Haleakala, the "House of the Sun" with amazing sunrises and sunsets. And Key West has the Mallory Square Sunset Celebration that draws thousands to the historic waterfront for a once ad hoc happening that has become an island institution featuring artists, clowns, fishermen, food vendors, jugglers, musicians, psychics, tourists, and friends that gather to celebrate nature's finale to another day in paradise – Sunset in Key West, Florida.
It is true that sunset on a broad ocean horizon does generally bring on a range and intensity of dramatic color changes and cloudscapes that is not seen over land. The unobstructed fetch of the light rays, the seemingly level aspect of the water, moisture in the air, and other refractory factors all add up to spectacular natural beauty. That and the fact that you are all chilled out after another nice day of tropical vacation (or island living if you are lucky) and ready to relax and hoist an equally chilled adult beverage as you congratulate yourself for featuring in a scene that most people only see in various magazines or travel shows.
A Mallory Square Key West Sunset is of course a must-see for any Key West visit. The Square is loaded with history, and has long been a hub of activity in Key West. Over two hundred years ago, pirates anchored in waters off what later became the Key West Harbor. They were replaced in 1882 by the piracy suppression activities of Commodore David Porter after the U.S. Navy officially claimed the island. The square has always been a center of sea-going activities out of the island, whether it was the Key West wreckers of old, or American soldiers and sailors shipping out to war. Imminent figures including John Audubon, Mark Twain, Tennessee Williams, and Ernest Hemingway have all enjoyed the sunset views offered by the Key West waterfront.
When hippies arrived in Key West and the Mallory Pier area in the late 1960's, they began to make a stoned ritual out of going down to watch the sunset, and the roots of the modern Sunset Celebration took hold with the sort of antics and activities, juggling and vending that are sure to be familiar to anyone who has ever walked the parking lot of a Grateful Dead show. The custom of celebrating sunset has seen its trials and tribulations over the years, but there has always been a core of die-hard locals and dedicated pilgrims that kept the tradition alive. Now, Sunset Celebration is an accepted part of Key West life, an internationally-known attraction that has spawned a cottage industry on the island. The nightly gathering draws visitors from all over the world who come to be part of a lively multicultural scene and nightly party that has something for everyone. And to see a beautiful Key West Sunset as well. Be sure to drop by and check it out when you are in Key West.
Read More