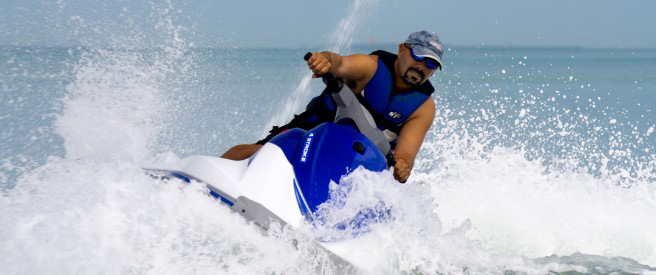 If you have never ridden a Jet Ski, I am here to tell you that this is an experience not to be missed, and that Key West is one of the best places to try it out. Most everyone has seen Jet Ski riders on TV and in the movies. The sport looks fast and wild, and maybe dangerous as well. But although it is a very exciting, adrenalin-pumping experience, I think the risks are near zero while the rewards are huge.
Modern Jet Skis, like the models used for the Attractions Key West Jet Ski Tours, are of the type known as runabouts. They are very simple and easy to ride, and require nothing special in the way of strength or balance. In fact, a Jet Ski cruise can be very relaxing as you rest on a comfortable seat and motor along taking in the sights. Then, when you get familiar with the machine, you can open the throttle and increase the fun factor. Feel the power of skimming across the water, then leaning into a graceful, arcing turn. There is really nothing like it, and it is easy to see why riding these personal watercraft is such a popular pastime wherever there are bodies of recreational water.
Most of my own Jet Ski experience comes from riding a powerful Honda 1000 CC 4-stroke machine that can reach speeds of 60 miles per hour on flat water with a grown man aboard. The owner of this incredible craft? My mother, who is in her 70's and lives on a lake in Minnesota. It's true – a Jet Ski ride is one type of action sport that really is accessible to people of nearly any age or fitness level. Jet Skis offer the thrills of a motorcycle with the safety of wide-open water space and a painless splashdown if you should happen to tumble off, which is only likely if you start trying some high-speed tricks!
There are two great things I have found about Key West Jet Ski tours. For one thing, a ride like the Ultimate Jet Ski Tour of Key West lets you get a view of the island that is not available on any other type of tour. You are free to choose your speed and course, with the watchful help of an experienced guide. If you see something interesting, birds, wildlife, or a beautiful beach, simply motor closer for a better look. If you get hot, stop your ski and drop in for a dip. There is a degree of individuality and control available that no other type of water tour can offer.
On the other hand, the Sunrise Special Key West Jet Ski Tour offers its own unique benefits. One of them is a good 33% discount when you take the 9 am. Another bonus is the beauty of the peaceful early morning sea or the evening sunset. Finally, these are the times of day when riders are most likely to encounter the calm, glassy waters that invite full throttle blazes, spiced up with the exhilaration of deep carved turns that will have you feeling like a Jet Ski pro on your first time out.
Read More