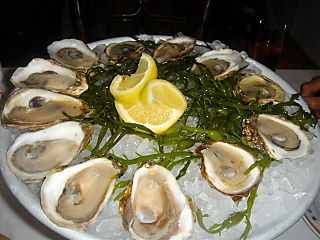 Key West holds a lot of attractions – beautiful weather, White Sand Beaches, blue water, historical sights, and interesting people.  There are also multitudes of widely-varied restaurants and food styles on the island, and it would be fair to say that eating and drinking are as much of a Key West tourist activity as anything else, particularly if dining on the fresh local seafood is taken into account. Eating establishments in town range from the basic to the blissful, and there is something available for every taste and budget.
However, one of the island's most sublime dining pleasures is often overlooked by visitors, possibly because it usually comes disguised by the drinking that goes with it. A bit of local knowledge and maybe some time spent in the city's watering holes are needed in order for a visitor to catch on to the secrets of the Key West raw bar happy hour. If you hit a few stops on the Duval Street crawl around 4:00 pm, you might notice that certain places have iced displays of succulent crustaceans, fish, and shellfish. These are the famous Key West raw bars. Look for them in places like Alonzo's Oyster House, the Hogs Breath Saloon, Turtle Kraals, and of course the Half Shell Raw Bar. If you happen to be on Stock Island, check the offerings at the Hogfish Bar and Grill.
Just like the name says, you can snack on raw oysters or clams, cold shrimp cocktail, and other delicacies of the deep. You can also choose your favorite fish from the icy bed and have it cooked the way you like, or cut into sashimi if that is your pleasure. The raw bar offers a way to try a variety of the freshest seafood without paying the fine-dining prices often associated with seafood restaurants. And unlike a formal dinner, you do not have to stop at one item. Go ahead, suck down a dozen oysters. Then try the stone crab claws, order another ice cold beer, and back it with some crisp fried fish or conch fritters. Still hungry (and thirsty)? Try a Key West pairing made classic by Jimmy Buffet – fresh pink shrimp and icy, salty margaritas.
The wonderful thing about raw bars is that you can hit them during happy hour. Who needs dinner when cheap drink specials and half-price raw bar choices are so readily available? This is the Key West insider's way to grab an economical feast and get an evening of partying started off on the right foot. If you are with friends who may not be as enthusiastic as you are about slurping down tangy raw oysters and salty sweet clams, have no fear. Great traditional bar foods like burgers and fries, barbecue ribs, spicy wings, and other treats are nearly universally available at the same places offering raw bar feasts.
A quality raw bar is a seafood lover's nirvana, and it is something that is not easy to find outside of the Florida Keys. The seafood on the bar must be the freshest of the fresh, and the Key West locals who frequent many of these drinking establishments on a daily basis are a discerning crowd when it comes to seafood. Variety, presentation, and taste are all kept at the optimum by the demands of the local patrons. So don't miss the opportunity to dive into the raw bar scene while you are in Key West.
Read More