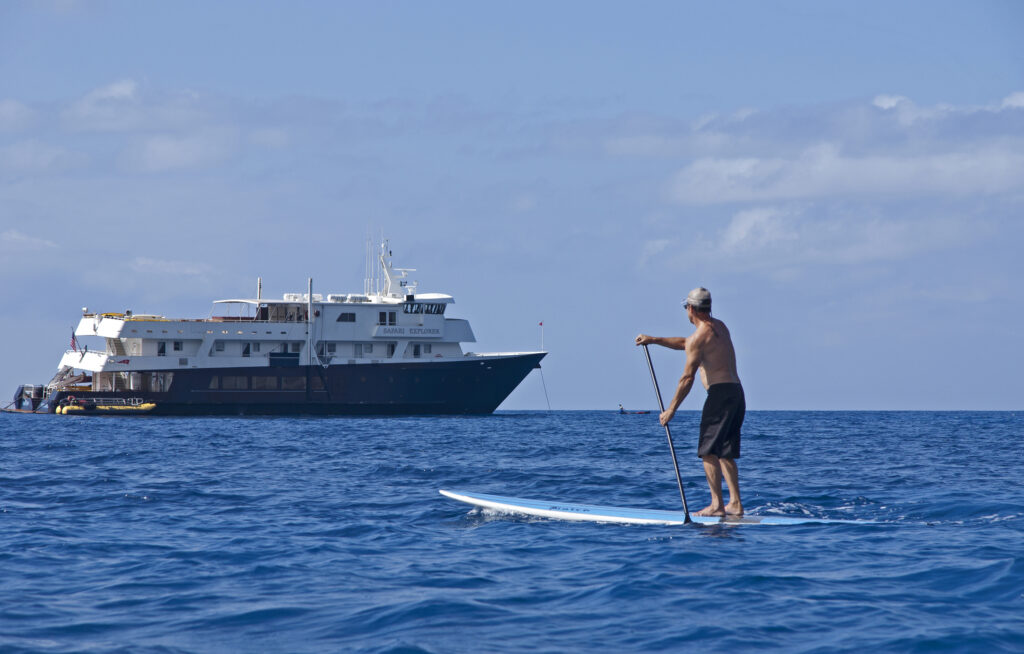 Standup Paddleboarding, or SUP, is one of the fastest growing water sports worldwide, and Key West is an ideal place to get an introduction to this fun, safe, and easy pastime. Although standing upright on a large surfboard and paddling canoe-style undoubtedly dates back to the ancient Hawaiian roots of surfing, in its modern incarnation standup surfing was a pastime of the original Waikiki beachboys of the 1940's and 50's. In their work of introducing tourists to the sports of surfing and canoeing, the beachboys would stand on big, floaty longboards and move around with a canoe paddle, allowing for a good view of their charges and a more commanding platform from which to shout instructions. It was also a way to earn tips by paddling out with several tourist cameras hanging around the neck and snapping pictures of the happy visitors as they paddled canoes and surfboards around in classic Waikiki breaks like Old Man's, Canoes, and Queen's Surf.
About ten years ago, hardcore Hawaiian watermen like Robbie Naish, Brian and Rusty Keaulana, Dave Kalama, Laird Hamilton and several other leading lights of the Hawaiian islands big wave surfing and windsurfing scene began paddling around on flat water and into waves while standing up on big boards. The sport quickly went viral, and spread to both surf breaks and flat-water venues around the world within just a few years. Now, tourists in places like Key West can enjoy getting out on the water to feel the challenge and excitement of riding a maneuverable surfboard-like craft while reaping the health benefits of the solid core workout delivered by simultaneously maintaining balance and wielding a long-handled SUP paddle. As an added bonus, being positioned to look down into the water from above makes for good viewing of sea life when paddling in clear waters.
Standup paddleboarding has now become firmly established within the Key West watersports line up, and there are several competitions and special events held each year, including the Key West Paddle Board Classic, four days of events and races including a 12-mile race around the island. These events draw big crowds, and every year more people are introduced to SUP while visiting Key West. If you want to try it out for yourself, there are a few interesting options available on the island. Eco tours that feature paddles among the mangroves and along remote sandbars offer chances for exploration and wildlife viewing. Combination cruises give you a chance to try out multiple sports in one go as you paddleboard, kayak, and snorkel on the same trip offshore. Night paddling is a recent innovation that lets the paddler enjoy the unique experience of exploring moonlit waters on a lighted paddleboard that acts as a fish attractor to bring the creatures of the nighttime sea into good viewing range. And of course there are lessons available for those who would like a soft introduction to the sport, as well as the various races and competitions for visitors who are already at the expert end of the paddleboard spectrum.
The great thing about standup paddling is that it is a sport that you can take home to enjoy on your local lake or river. Then, as you gain skill, you can head out to the ocean and try it out in the waves if you want. Standup paddleboards work well in small waves, and offer an easy way to taste the thrill of wave riding without the long learning curve that traditional surfing requires. So, now that you know what's SUP, take a chance to try out this great sport on your next visit to Key West.
Read More